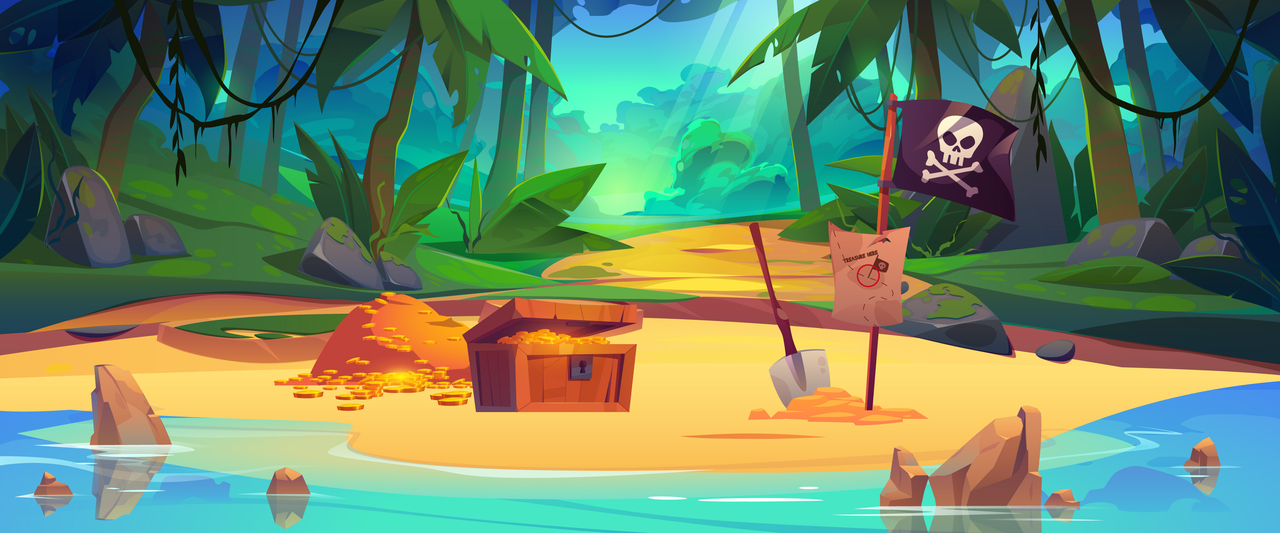 Printable Treasure Hunts: Get ready to solve puzzles and discover hidden treasures!
Welcome, budding adventurers and intrepid parents! Get ready to enter the wonderful and mysterious world of printable treasure hunts. Here, each treasure map is not just paper and ink, but a ticket to a world of mystery, riddles, and laughter.
Navigate the jungles of your backyard, explore the rugged coastlines of your living room, and discover hidden treasures beyond the perilous sea of pillows.
In short, our printable treasure hunts are guaranteed to turn an ordinary day into an extraordinary adventure. So, brave parents, are you ready to trade in your model parenting clothes for those of daring captains? If so, welcome your little sailors aboard and set sail for the treasures of the imagination!
Warm up your printers, pirates. The treasure awaits!
Discover printable PDF treasure hunts for your children and grandchildren!
Treasure hunts... these words alone can conjure up unforgettable childhood memories, hours of joy and excitement. For all the parents and grandparents reading this, wouldn't it be wonderful to share those moments with your children or grandchildren? I create exciting printable treasure hunt adventures in PDF format, ready to delight young and old alike! There are many themes to choose from: pirates, unicorns, Harry Potter inspiration, Christmas, Easter, etc.
Have you ever tried to create a treasure hunt at home? If you have, you know how complicated it can be, like folding a road map in the back of the car on a long trip. But don't panic! Our ready-to-print treasure hunts are as easy to use as falling off a pirate board - but much, much more fun.
Imagine the laughter of children as they decipher riddles more twisted than a samba-dancing octopus. Imagine the excitement in their eyes as they unearth a treasure more fabulous than a new toothbrush! (And God knows they love that, don't they? No? Just us? Okay, moving on...).
How a treasure hunt works
A treasure hunt is more than a game. It's a journey, a problem-solving challenge, a school of patience and cooperation, all wrapped up in a layer of endless fun. In these printable treasure hunts, I provide all the instructions, puzzles, and clues you need to create an unforgettable experience, whether you're indoors or out. Everything is guided.
Why choose these printable scavenger hunts?
These PDF scavenger hunts are created with love and attention to detail. They're designed to capture children's imaginations and take them on an exciting adventure, while developing their problem-solving, reading, and teamwork skills when done in groups. What's more, the scavenger hunts are ready to print at home, so you can organize a hassle-free treasure hunt anytime. You can play indoors and/or outdoors.
An unforgettable gift.
A treasure hunt printable in PDF format from here does more than entertain; it creates memories. As a parent or grandparent, you know how important those precious moments are. They're the stories we tell, the smiles we remember. Treasure hunts are designed to provide those precious moments.
So if you're looking for a treasure hunt for your children or grandchildren, look no further. PDF printable treasure hunts are designed to provide an exciting and memorable experience for the whole family.
Explore the entire collection today and put a smile on your kids' faces. After all, the most precious treasures are the moments we share together!
Tatiana - the creator of Les Parents Créatifs